Ротвейлер Krash Unserbund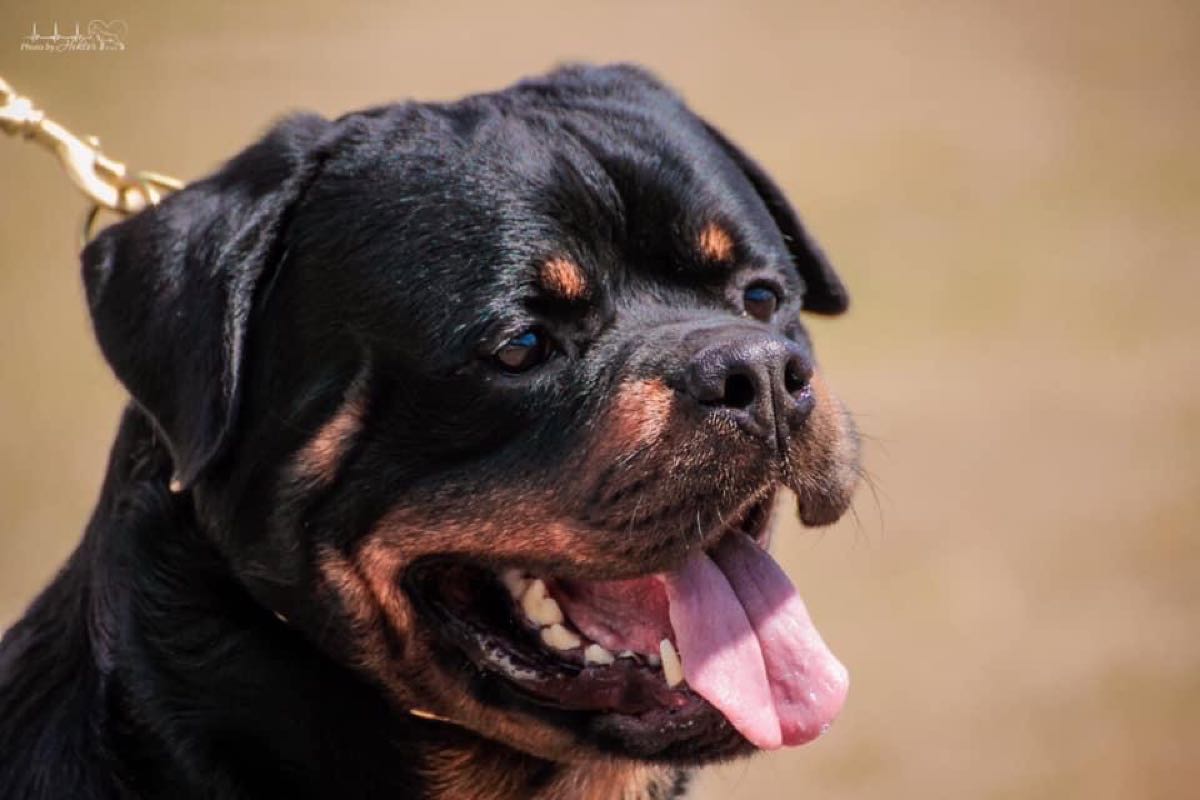 Отец: Lex Vom Hause Edelstein
Мать: ELEANORA UNSERBUND
Дата Рождения: 13/11/15
Пол: Кобель
Страна: Украина
ED/HD free
JLP: Clear, not a carrier of the disease allele. The disease associated with the Investigated mutation will not develop. The animal will not pass the disease allele on to its offspring.
Титулы
Чемпион Украины
Чемпион Латвии
Чемпион Литвы
Юный чемпион Ротвейлер клуба России
Юный Чемпион Украины
Победитель чемпионата Европы 2017
BEST of the BEST of BREED in UKRAINE
Brabus vom Hause Edelstein
CHIQUITA VOM HAUSE EDELSTEIN
Patrissya from House Rotvis
CHIQUITA VOM HAUSE EDELSTEIN
MAMBO VON DER CROSSENER RANCH
Dorothy from House Rotvis
MAMBO VON DER CROSSENER RANCH
MAMBO VON DER CROSSENER RANCH
| Дата | Выставка | Класс | Оценка | Судья |
| --- | --- | --- | --- | --- |
| 30.04.2016 | VII SERBIAN Klubsieger Show, t. Kragujevac, Serbia | Puppy Class | V2 | Mr. Seigmund Trebschuh, ADRK |
| 21.05.2016 | IFR 2016 LITHUANIA | Puppy Class | BP | Marylia Makomaski (Fr.) |
| 26.05.2016 | BG Westheim e. V. | Puppy Class | BP4 | R. Schmidtf (ADRK) |
| 28.05.2016 | ADRK WORLD FAMILY 2016 | Puppy Class | BP5 | Bruno B.Morstabilini (It.) |
| 29.10.2016 | Harkiv-2016 | Junior Class | V1, Best Male, BOB | Shian V |
| 15.04.2017 | Volgograd (Stalingrad) Rottweiler Club Show | Junior Class | V1, JUNIOR CLUB WINNER | Татьяна Попова (Tatyana Popova) RKF |
| 23.04.2017 | Monobreed Dog Show "Rostov Main - Cup of Yunda. | Junior Class | V1, BEST JUNIOR MALE | Stojadinovic Radisa (Serbia) |
| 05.05.2017 | IFR WORLD DOG SHOW 2017 Kragujevac | Junior Class | Top 6V | Romanelli Carla Lensi |
| 26.08.17 | EDS-2017 CACIB-UA | Intermedia Class | Excellent, CAC, CACIB, BOB and EUROPEAN WINNER 2017 | Peter Friedrich (D) |
| 25.08.17 | CAC-UA | Intermedia Class | V1 .CAC,BOB | Refet Hadzic(BIH) |
| 30.06.18. | Poltava(UA)-CACIB | Champion Class | V1,Best Male,BOB | Strelkova G.(BLR) |
| 01.07.2018. | Poltava(UA)-CACIB | Champion Class | V1 | Azen I.(BLR) |
| 11.08.2018 | Worl Dog Speciality Show | Working Class | V1 | Refet Hadzik |
| 08.12.2018 | FCI-CACIB "KYIV RUS 2018" | Champion Class | V1, V2 CAC | Paolo Damiani, Italy |
| 09.12.2018 | FCI-CACIB "CRYSTAL CUP OF UKRAINE 2018" | Champion Class | V1, V2 CA | Anne-Marie Class, France |
| 23.03.19 | PetExpo' 2019 | Champion Class | CAC, CACIB, BOB BIG-IV | Andi Hudono (ID |
| 27.04.19 | 35. ROTTWEILER' ÖSTERREICHISCHEN KLUBSIEGERSCHAU | Working Class | V3 | Herr Xabier Castro Touris (Spain) |
| 02.08.2019 | CACIB. DRUSKININKAI LT | Champion Class | V1 | Daniele Poltri(IT) |
| 03.08.2019 | LITHUANIA ROTTWEILER CLUB WINNER SHOW | Working Class | V1 | Sedih N.(RUS) |
| 04.08.2019 | CACIB DRUSKININKAI LT. | Working Class | V1 | Manola Poggesi(IT) |
| 23.08.19 | IDS «GOLDEN PEKTRAL» FCI-CACIB KIEV, Ukraine | Champion Class | CAC, CACIB, BOB and finally Ukraine CH | Rafael Malo Alcrudo and Gerard Jipping |
| 24.08.19 | IDS «GOLD OF SKIF» FCI-CACIB KIEV, UKRAINE | Champion Class | CAC, CACIB, BOB | Igoris Zizevskis(LT) |
| 25.08.19 | IDS «KIEV' SOFIA» FCI-CACIB KIEV, UKRAINE | Working Class | class winner, CAC, CACIB & BOB | Bas Bosh (BE) |
| 07.12.2019 | FCI CACIB «Kиївска Русь 2019» | Working Class | V | Stefan Sinko (Slovenia) |
| 08.12.2019 | FCI CACIB «Кришталевий кубок України» | Working Class | V1 | Refet Hadzic (BIH) |